Smarter Orthotics
Smarter Science
thinSOLE Keeps You On Your Feet
Protect your feet with orthotic shoe inserts designed by a biomedical engineer. Our thinSOLE line includes fsa eligible inserts for arch support & heel pain, and textured insoles that reduce fatigue while increasing proprioception through sensory stimulation. Feel the comfort & energy you need to stand all day.

thinSOLE Cookie - Arch Support Inserts
Podiatrists often prescribe foot arch supports & arch pads for conditions like flat feet or plantar fasciitis. If that's you, our arch cookie has a revolutionary thinSOLE mesh & it's HSA eligible. This order is adhesive free for a better environment.
Sizing is based on two factors. Match your shoe size & arch type in the sizing chart.
thinSOLE - Flat Insoles Textured For Stimulation
Our thinSOLE textured insole provides sensory stimulation that enhances proprioception with a "buzzing" massage-like stimulation. thinSOLE is lightweight, breathable, and water-resistant, making it perfect for everyday wear. And the non-skid design promotes better balance & stability with no added adhesives. thinSOLE helps to improve posture & reduce fatigue, so you can stay active and enjoy life to the fullest.
thinSOLE was designed with a No Trim Sizing feature. Check the size chart for the best fit.
thinSOLE Heel Pillow - FSA Eligible Heel Cups
This heel cup has a contoured shape that distributes force across the heel with tapered design fits easily into any shoe. This order is adhesive free for a better environment. That also means you can easily move them from shoe to shoe.
Our Heel Pillow is FSA eligible.
Size regular fits women size 6-10 & large fits men size 7-13.
You Can Stride Pain Free With thinSOLE Insoles & Shoe Inserts

Our insoles, heel cups & arch support inserts are designed with a revolutionary thinSOLE mesh that keeps them from sliding without the need for adhesives. Made with eco-friendly TPU material, these inserts provide arch support & cushioning to help alleviate foot pain & discomfort. Whether you're running, walking, or standing on your feet all day, our thinSOLE helps improve your overall foot health & comfort. And because they're free from adhesives, they're not only more comfortable to wear, but also more sustainable & environmentally friendly.
thinSOLE Shoe Inserts Help Provide Relief From
Plantar Fasciitis
Heel Pain & Spurs
Achilles Tendonitis
Foot Neuroma
Sciatic Foot Pain
Two million people get treated for plantar fasciitis annually. This ligament bears all your weight. The word fasciitis means "inflammation of the fascia of a muscle or organ" and plantar relates to the sole of the foot.
Read The Reviews For Yourself
"I had my insoles in my tennis shoes on Saturday. I was on my feet for almost 7 hours and I felt great when I got home." -Debbie
❮
❯
Performance Guaranteed
Our shoe inserts & insoles support you in the journey to make a difference as a happier, healthier you. We're incredibly proud to stand behind our customers 100%. If you have a problem, we'll solve it. Exchange. Refund. Whatever it takes. Click here to view our full return policy.
How Does The Patent Pending Design Work For You
Sustainably Engineered To Feel Less Foot Pain
Our orthotics are more than comfortable footwear - they're a unique & innovative tool for maintaining your health & well-being. Added strength to stand all day comes from our unique thinSOLE mesh.
Our mesh is nearly impossible to create with traditional manufacturing methods, giving you exclusive comfort insoles & FSA eligible shoe inserts with one-of-a-kind fit. They also provide more support & stability for the foot, providing better overall body mechanics & reducing foot pain.
What are you waiting for? Feel the difference for yourself.
Many companies use outdated methods to carve & cut blocks of raw material. Our process:
Adds raw material with precision
Stronger, lighter products with more complex geometries
Less waste than conventional manufacturing
For example, PORON™ foam is a urethane companies carve up in a factory. This leaves behind small particles of waste in the form of harmful microplastics.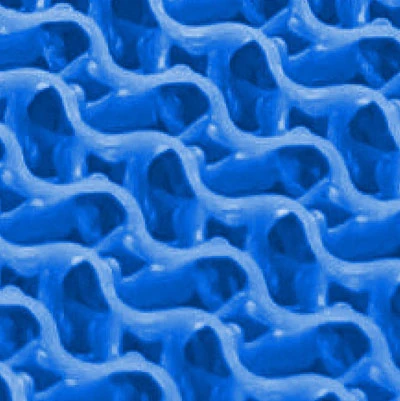 Insoles & Inserts With A Remarkable Mesh
Our orthotics have a unique texture & that's by design. The geometric pattern is actually our incredibly strong thinSOLE mesh. It's based on an equation discovered by NASA scientists decades ago. The performance of our mesh is:
7% better than a honeycomb-shaped pattern
10% better than a diamond-shaped pattern
Research shows our mesh pattern is 10 times stronger than solid material. Not only is it stronger, but it uses 90% less material. That makes for lighter insoles & a better environment.
Exotic Materials For An Exclusive Feel
Thermoplastic Polyurethane, or TPU, is highly durable & flexible, making it our exclusive choice for insoles & HSA eligible shoe inserts. It's also known for its comfort & ability to conform to the shape of your foot, providing a more comfortable fit compared to stiffer materials like silicone.
So why settle for silicone or PORON™ insoles when you can have the best of both worlds? Our comfort insoles & FSA eligible orthotic inserts offer the support & stability you need, absorbing shock to reduce foot pain. Try thinSOLE today & feel the difference for yourself.
TPU offers an impressive balance of mechanical properties:
Excellent wear & tear resistance
High tensile strength
Good load-bearing capacity
Unique vibration dampening
Why Choose TPU Over PORON™ Or Silicone?
With our insoles, arch supports, and heel cups you can enjoy comfort & stand all day long. In addition to high performance benefits, our choice of TPU is also a more sustainable choice compared to silicone or PORON™. It's more easily recyclable & has a lower environmental impact during production. By choosing Project Biotech, you can enjoy high-performance & sustainable footwear that supports your health & well-being.
TPU is part of our commitment to sustainability & reducing our environmental impact. We also chose recyclable zip lock bags for shipping insoles. These durable & cost-effective bags are made from recycled materials & they save space on delivery trucks. They can be reused & recycled multiple times, reducing waste & conserving natural resources. Read more... about us & our People & the Planet Pledge.
References
Some of the research we relied on for product development:
Anthropometric Database, US Army Public Health Center, 7 Feb. 2020, https://phc.amedd.army.mil
Buchanan BK, Kushner D. Plantar Fasciitis. In: StatPearls [Internet]. Treasure Island (FL): StatPearls Publishing; 2022 Jan-. Available from: https://www.ncbi.nlm.nih.gov/books/NBK431073/
Van Alsenoy, Ken et al. "The Effect of EVA and TPU Custom Foot Orthoses on Running Economy, Running Mechanics, and Comfort." Frontiers in sports and active living vol. 1 34. 19 Sep. 2019
Dong, Guoying & Tessier, Daniel & Zhao, Yaoyao. (2019). Design of Shoe Soles Using Lattice Structures Fabricated by Additive Manufacturing. Proceedings of the Design Society: International Conference on Engineering Design. 1
Froese, Michelle. "A Climate of Change: The Demand for More Sustainable Adhesives and Sealants." Fastener Engineering, https://fastenerengineering.com/a-climate-of-change-the-demand-for-more-sustainable-adhesives-and-sealants/
*Products not intended to diagnose, treat, cure, or prevent any disease.
Statements not evaluated by the Food And Drug Administration.