Health Food
For Busy Bodies
Go Farther with the Best Superfoods to Eat on the Go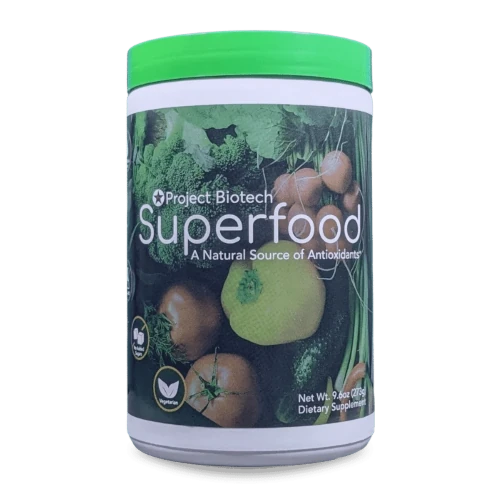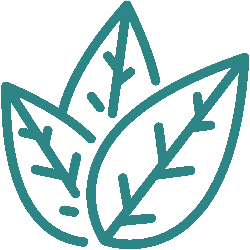 Super Greens & Antioxidant Foods
Check the label. Our delicious green superfood powder is made with non-GMO ingredients & fortified with antioxidant & probiotic foods. Enjoy the apple cinnamon flavor while benefiting from powerful antioxidant superfoods.
Healthy Diet with Greens & Superfoods
Feel natural energy with a health food selection of greens & superfoods free from added sugars, preservatives, & artificial colors. We include natural caffeine for low calorie energy. Say goodbye to sugary coffee & energy drinks.
Multi Enzyme Probiotics Your Body Needs
Boost your immune system & improve your gut health with superfoods. Our multi enzyme probiotic foods provide beneficial bacteria in the gut to aid digestion, nutrient absorption, & overall health.
Say hello to Project Biotech Superfood! This deliciously green superfood powder is packed with all the good stuff: non-GMO ingredients, antioxidants, and probiotic-filled foods to power you up with natural energy. And don't worry, its apple cinnamon flavor comes without any added sugars, preservatives, or artificial colors. Plus, it offers natural sources of caffeine to help with healthy energy metabolism. And it doesn't stop there! Project Biotech Superfood is like a superhero for your immune system and your gut health, with its multi enzyme probiotic foods providing beneficial bacteria to help digestion and nutrient absorption. So, don't be shy and try this awesome powder - it'll make you feel like a nutritional science whiz!
Whether you're an athlete, a busy mom or just want a fast & easy way to eat better... with more energy, rely on Project Biotech.
Read The Reviews For Yourself
"Tons of good stuff in this green energy powder. It tastes pretty good just all by itself mixed in cold water. I may work it into some of my popsicles."
-Denise (Amazon)
❮
❯
Moneyback Guaranteed
We stand by our work, and the science behind it. If you're unhappy with any of our nutrition products, for any reason, they can be returned for a refund (minus shipping costs) within 30 days. Click here to view our full
return policy
.
Our Deep Dive On Superfood Nutritional Science
Antioxidants Boost Immunity, Reduce Inflammation, & Fight Aging
Free radicals are molecules that damage the fats & proteins inside your cells. They need electrons & will steal them from other places. When they take electrons from your body's tissues it can cause bad things to happen, like getting sick or aging faster. We fix this problem with high antioxidant foods. All it takes is mixing one daily scoop for a green drink to boost immunity.
Fact Check On Antioxidant Benefits
Vitamin E is a substantial source of antioxidants in a healthy diet. And it's fat-soluble. People who don't absorb fat properly can develop a deficiency. Common signs include:
Retinopathy (damage to the retina of the eyes)
Peripheral neuropathy
Ataxia (loss of control of body movements)
Decreased immune function
Sources: We rely on proven research from the world's most respected institutions. Check our references below.
Super Foods Create Good Gut Bacteria
Inulin is considered the ultimate probiotic for building better bacteria in the gut. New routines & illness can wipe out essential gut bacteria needed for your immune system. New research found COVID disrupts bacteria in the gut & may lead to dangerous secondary infections.
Project Biotech Nutrition Supplements
Sustainably grown american foods
Made in USA From Non-GMO high antioxidant foods
Based on science & developed By Medical Experts
Produced In FDA registered facility by GMP standards
What Else Is Vitamin E Good For? Recover Faster From Exercise.
The Annual Review of Nutrition published research in their 2022 Sports Nutrition collection. Scientists confirmed the level of Vitamin E in our superfood provides significant protection against oxidative stress & improved recovery after exercise.
Key quote: "Low doses of Vitamin E supplementation had significant protective effects against exercise-induced muscle damage & oxidative stress."
Start Enjoying The Benefits of Smart Targeted Nutrition Today
We make it easy for you to make smart nutrition decisions fast. Trust us to keep up on the latest research to get you the smartest possible supplement.
Buy
Now
Full Ingredient List
Green Health Blend
5.8g
Soy Lecithin Powder, Apple Fruit Powder, Barley Grass Powder, Alfalfa Herb Powder, Wheat Grass Powder, Wheat Sprout Powder, Barley Seed Malt Powder, Rice Bran Powder, Dulse Powder, Spinach Leaf Powder
Energy Blend
1.41g
Spirulina Whole Plant Powder, Beet Root Powder, Bee Pollen Powder, Green Tea Leaf Extract
Detox Blend
420mg
Acerola Berry Powder, Parsley Leaf Powder, Deglycyrrhizinated (DGL) Licorice Root Powder, Echinacea angustifolia Herb Powder, Astragalus Root Powder, Milk Thistle Seed Extract
Alkalinity Blend
340mg
Chlorella Cracked Cell Wall Powder, Suma Root Powder, Ginkgo Leaf Extract, Grape Seed Extract
Probiotic Blend Complex
150mg
Inulin, Lactobacillus acidophilus, Lactobacillus bulgaricus, Bifidobacterium bifidum, Bifidobacterium longum, Streptococcus thermophilus
Enzyme Blend
125mg
Maltodextrin, Inulin, Bromelain, Papain, Cellulase, Lipase, Protease
Other Ingredients:
Organic Cassia Bark Powder, Natural Flavor, Silicon Dioxide, Rebaudioside A (From Stevia Leaf Extract), Sucralose.
Contains: Caffeine, Tree Nuts (Ginko Nut), Wheat, and Soy.
Certification & References
Trust our research on nutrition facts. Project Biotech is a small business founded by an Army veteran who went on to engineering & medical research. But if you do your own research, here's where you can start.
Kim, Myunghee, et al. "Can Low-Dose of Dietary Vitamin E Supplementation Reduce Exercise-Induced Muscle Damage and Oxidative Stress? A Meta-Analysis of Randomized Controlled Trials." Nutrients, vol. 14, no. 8, MDPI AG, Apr. 2022, p. 1599. https://doi.org/10.3390/nu14081599.
Hiel, Sophie, et al. "Effects of a Diet Based on Inulin-rich Vegetables on Gut Health and Nutritional Behavior in Healthy Humans." The American Journal of Clinical Nutrition, vol. 109, no. 6, Oxford UP (OUP), Apr. 2019, pp. 1683-95. https://doi.org/10.1093/ajcn/nqz001.
Lee, Ga, and Sung Han. "The Role of Vitamin E in Immunity." Nutrients, vol. 10, no. 11, MDPI AG, Nov. 2018, p. 1614. https://doi.org/10.3390/nu10111614.
Younes, Hassan et al. "Effects Of Two Fermentable Carbohydrates (Inulin And Resistant Starch) And Their Combination On Calcium And Magnesium Balance In Rats". British Journal Of Nutrition, vol 86, no. 4, 2001, pp. 479-485. Cambridge University Press (CUP), https://doi.org/10.1079/bjn2001430.
Bernard-Raichon, Lucie, et al. "Gut Microbiome Dysbiosis in Antibiotic-Treated COVID-19 Patients Is Associated with Microbial Translocation and Bacteremia." Nature Communications, vol. 13, no. 1, 2022, https://doi.org/10.1038/s41467-022-33395-6
California Residents
WARNING, this product is regulated by Prop 65.

This product can expose you to chemicals including arsenic, which is known to the State of California to cause cancer. That's because some plant crops and edible seaweed can absorb arsenic from soil or water. For more information, go to www.p65warnings.ca.gov/fact-sheets/foods
*Project Biotech Superfood not intended to diagnose, treat, cure, or prevent any disease.
Statements not evaluated by the Food And Drug Administration.